"Make a joyful noise unto the Lord."
St. Paul's has a long history of praising God through the gift of music. We encourage ourcongregation to use their gifts of music in a variety of ways including:
Praise Team
Hand bell choir
Small ensembles
Seasonal musical offerings
If you are interested in participating in any of these groups, please contact our minister of music, Rick Jensen, through the church office. (717)244-2355
Handbell Choir:
Our Handbell Choir, Joyful Vibrations, performs special music on average once a month during the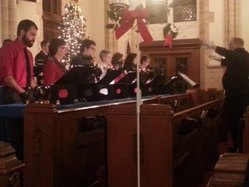 8:30 AM service and is also featured on Christmas Eve at the half hour prelude to the late service. The group is made up primarily of adults, but ringers grade 9 and up are welcome! We meet every Monday at 7:00 PM.